Freezer Cooking Revamped!!
School is in full swing. This mean we are all lacking one important thing.. TIME!
I am a BIG fan of once-a-month cooking (OMAC, Freezer cooking, it goes by many names!). I love being able to pull something from my freezer and know that it is wholesome and healthy and a great meal for my family! I also love how EASY it is! At the end of a long day, I just do NOT have the time or energy to prepare a healthy meal, but I am determined to save my family time and money with out sacrificing health. OMAC was my solution. However, through many hard lessons, I have learned that the freezer can much to easily come unplugged, or go out. The freezer isn't really a stable place to store my 'investment' of prepared meals for my family.
My Friends, I have found a better solution!! The 'Meal Kit'! A shelf stable, healthy, prepared meal!! Think boxed meal (You know, of the 'helper' variety!) Only MUCH MUCH cheaper and MUCH MUCH more healthy!! You can make a meal kit out of just about any recipe. And Meal Kits are Shelf Stable!! No more worrying about thawing dinner or lost assets in a broken Freezer!!
This week I was measuring out ingredients and putting them in my bread machine. This task always seems SO TEDIOUS to me! (Tedious enough to make me stare longingly at bread machine mixes at the grocery store) I decided I would long for bread machine mixes no more! I measured all my ingredients (except yeast) and put in Ziploc baggies and printed a label! Instant bread machine bread mix!! I simple add my water, dump the mix, add yeast, and push go! I save my baggies to reuse so there is no waste! I love it!!
My 'bread machine bread mix' idea inspired me to start preparing lots of goodies and meal ideas! I now have 'condensed soup mix' (made with magic mix) ready for adding water (saves a ton on canned condensed soup!) I even have meals ready to go into my crock pot! I love how easy 'meal kits' have made making
Greek Spinach
!In a small bag I have the rice, spinach, and seasonings ready to be poured into boiling water and olive oil! When the rice is fluffy I add a can of tomatoes (housed along side the smaller bag in the larger bag)! Simple and easy!
On a busy day, I grab a couple bags from the pantry, add water, heat and eat! This could not get any better!
Best of all, I will NEVER spend an entire day cooking again! But we will have great food the is ready to heat and eat!
Prepared in 1 hour: 1 can Magic Mix, 1 Can Helper Mix, 7 White-Wheat Mixes, 4 Corn Bread mixes, 2 'cans' condensed soup mix, 1 Cowboy Bean Mix, 4 Greek Spinach Mixes, 2 Noodle Helper Mixes (Including Beef TVP), 1 Pioneer Chili Mix, 2 Creamy Chicken Soup Mixes, And More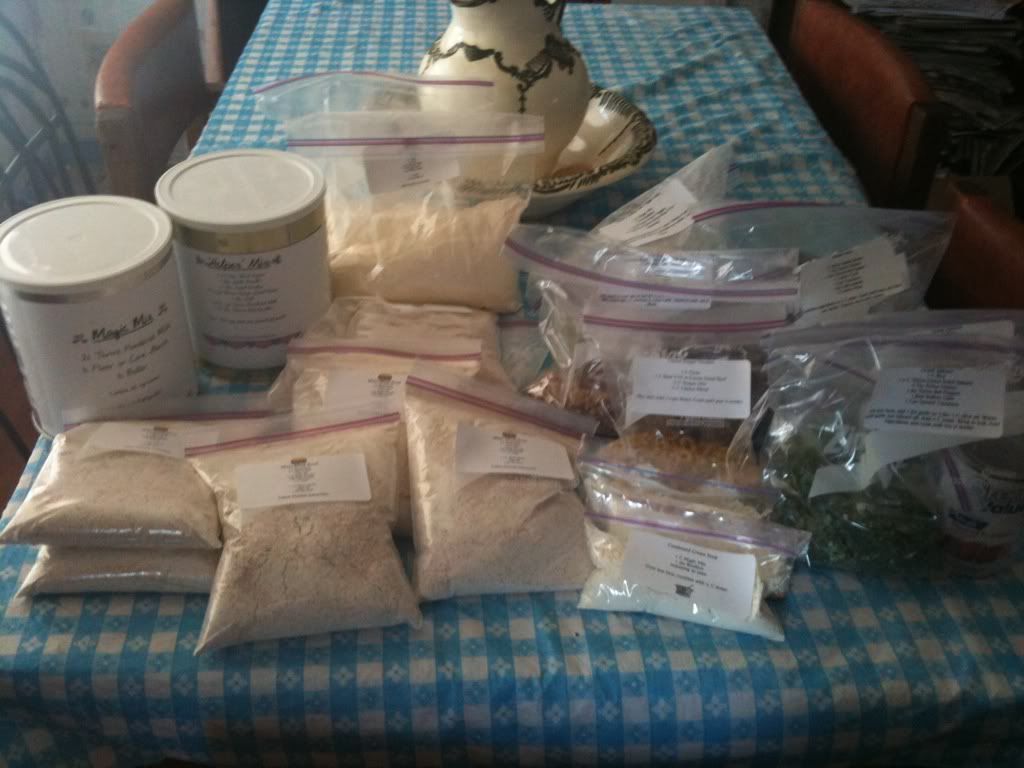 To Make Meal Kit:
Pick a few of your family's favorite recipes
Replace perishable ingredients Thrive Ingredients (Eggs, Milk, ect)
You May wish to consider replacing canned vegetables with Thrive Freeze Dried Vegetable to make dish more nutritious
You May wish to replace meat in dish with TVP or Freeze Dried meats
Place ingredients in Ziploc bags, empty Thrive cans, Mason jars or other storage containers
include preparation instructions
You now have meal kits ready to go!
Enjoy!